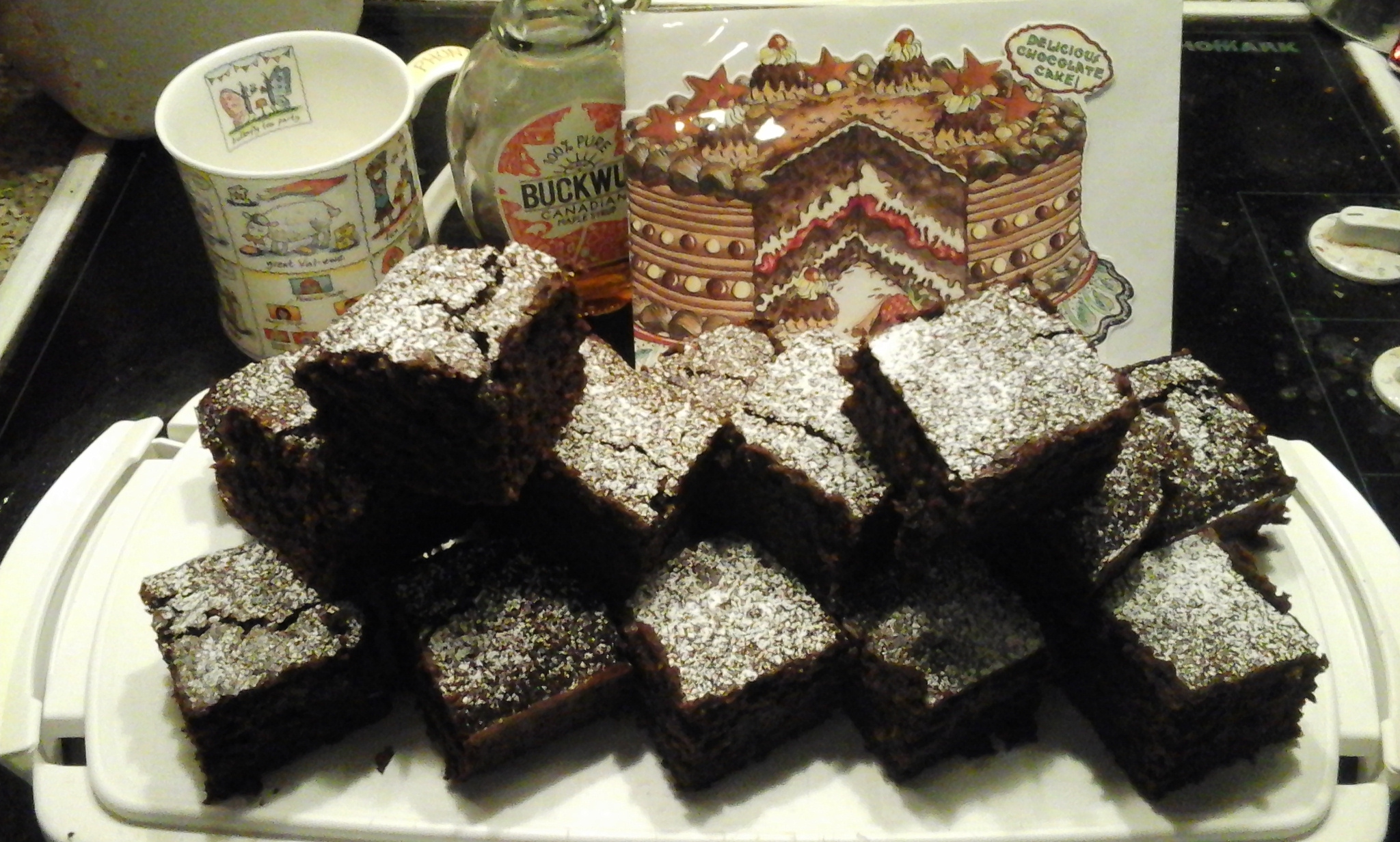 Lately I've been trying to cut out white flour and refined sugar almost entirely. It's not easy when I'm nearly 8 months pregnant and craving chocolate, cake, crisps, biscuits, sweets….constantly. So I've had to find a few 'sweet' alternatives. I found this recipe for sugar-free brownies online by Davina McCall.

Sugar free chocolate brownies
As usual I didn't quite have all the ingredients to hand and I'll tell you what I did differently, but essentially the were the same. I would love to try them again and make them gluten free too – maybe tomorrow!?…and yes I did sprinkle a little icing sugar on the top but only a little and wouldn't have if I wasn't showing them to you!
Ingredients
125g Dark Chocolate (100% cocoa)
100ml milk
100g unsalted butter, plus extra for greasing the tin
175g honey
150g maple syrup
Seeds scraped from ½ split vanilla pod
50g cocoa powder, sieved
3 eggs
150g wholemeal spelt flour
1 tsp baking powder
My variations!
Chocolate – I only had 50% chocolate to hand but would like to try again with darker, my 50% was dairy free though.
Milk – I use oat milk as we're dairy free, it's great for baking.
Butter – as we're dairy free I use Pure sunflower spread in all my baking, it's perfect, you wouldn't know the difference – unless you need a 'buttery' taste.
Honey – didn't have much honey left in the cupboard so made up with maple syrup, obviously made it a bit more expensive but yummy!
Spelt flour – didn't have spelt flour in the cupboard so used ordinary wholemeal flour, figured it was better than white.
Preheat the oven to 190c/170c Fan/Gas 5.
Grease a 30cm x 20cm brownie tin and line it with baking parchment. Leave the paper sticking up at the sides to make it easier to lift the brownie out when it's cooked.
Method
Put the chocolate, milk, butter, honey, maple syrup and vanilla seeds in a saucepan. Warm over a very gentle heat, stirring regularly, until everything has melted and you have a rich, glossy – looking batter. Remove the pan from the heat and whisk in the cocoa powder.
Allow the mixture to cool for a couple of minutes and then beat in the eggs. Finally add the flour and baking powder. The mixture at this point will look grainier than usual because of the texture of the flour.
Pour the mixture into the prepared tin and bake it in the oven for about 15 minutes until it is just set in the middle but still nice and gooey
Remove the tin from the oven and use the baking paper to help you slide the whole brownie on to a cooling rack as soon as possible so it doesn't continue to cook
Cut into squares when cool
SERVES: Makes 15 squares
PAN TO PLATE IN: 20

FROM NEW BOOK: 5 Weeks to Sugar-free
This is the first time I've made brownies and cooked them perfectly – usually they're either too soggy in the middle or too hard on the outside because I've been paranoid they weren't cooked right – these were just perfect. I would try them again with spelt flour, or with gluten free flour, or maybe just with ground almonds instead and definitely with darker chocolate and possible dark chocolate chips – or just chunks!
PS If you liked this recipe then you'll love coconut oil chocolate fudge!
PPS I am a little obsessed with cake, that's why I became a Flamingo Partner – cos eating cake is part of the job!