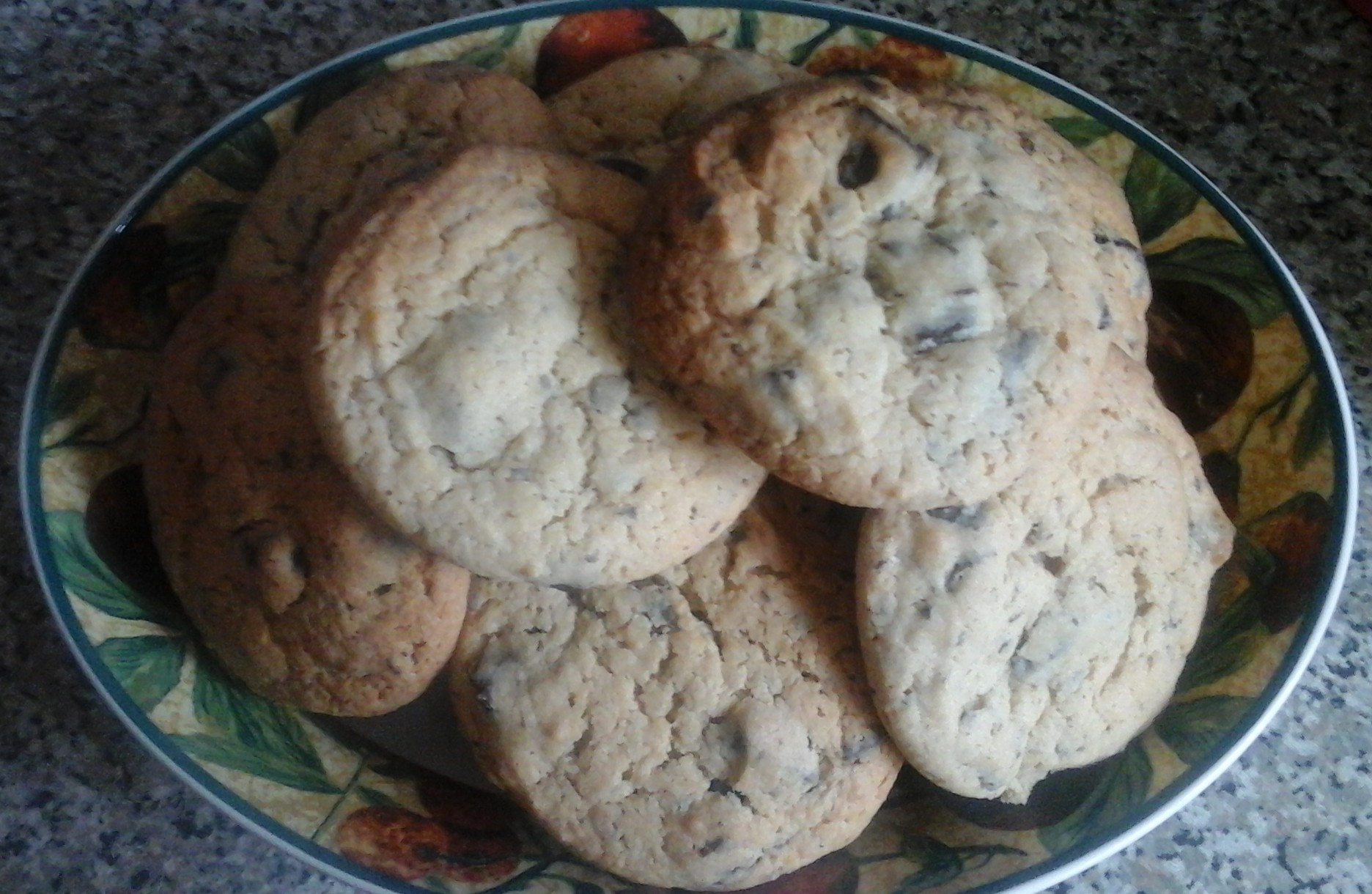 These are the best chocolate chip cookies I have ever come across –
I have been using this recipe for the past 20 years, since it was first published in Linda McCartney's book 'Linda's Kitchen' 20 years ago. The recipe I use is slightly altered, just to suit personal tastes of added ingredients but these cookies are the most perfectly crunchy on the outside, soft and almost cake-like on the inside and I wouldn't try anything different now.
Here's my version of the recipe:
Preheat oven to 180 deg C (fan oven)
4oz (125g) Pure sunflower spread (we're dairy free in our house, use whatever butter/margarine you prefer)
2oz (50g) Golden Caster Sugar
4oz (125g) Light Soft Brown Sugar
1 free-range egg, beaten
1 tsp vanilla extract
8oz (250g) plain flour (gluten free works but might need a little extra liquid and can be quite crumbly)
1tsp baking powder
1/2 tsp sea salt
4oz (150g) dark chocolate chopped
Method
Cream the Pure with both sugars until light and fluffy. Beat in the egg with the vanilla. Sift the flour with the baking powder and salt and sift into the bowl. Beat again – mixture is quite stiff. Fold in the broken chocolate pieces.
Use an ice cream scoop to drop spoonfuls of the dough on to a greased or silicon baking sheet, they will spread in the oven so leave space.
Bake at 180 deg C (fan oven) for 15 minutes until lightly browned. Cool on the baking sheet for 5 minutes to allow to firm up, then, if you can resist, cool completely (rarely happens in our house!).
Lovely on their own or still warm with vanilla ice cream. Can add nuts if you wish but huge blobs of melted chocolate suffice us!
I should add that Linda also has a couple of great recipes for Crispy Ginger Nuts and Oat and Raisin Cookies too.
And if you like these chocolate chip cookies, you might like Chocolate Coconut Oil Fudge!