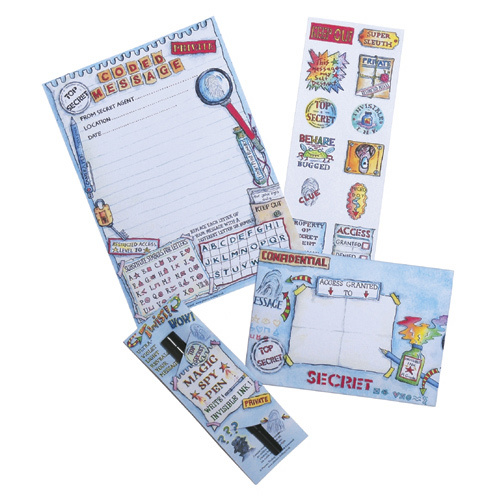 How to organise a spy-themed children's party
(I saw this on Mumsnet and thought it was brilliant – and that we had a couple of things that could really help to make it even better, so I've added in a couple of things here and there)
For your eyes only: here's the perfect blueprint for a spy or secret agent-themed extravaganza – from the invites through to the party bags <taps nose>
Invitations
Share vital intelligence about the day's proceedings in a suitably secretive manner
Use a cotton bud to write your invites in lemon juice on plain white paper – when the lemon juice dries, it will become invisible
When the paper is held in front of a lightbulb or other source of heat, the message will reappear. Don't forget to tell parents this, or add an explanatory note in normal ink!
Give them a secret password to remember to gain access to the party
Put them in large brown envelopes with Confidential or Top Secret stamped or written on the front
(Or use our secret agent kit, the paper is just perfect for this…
…comes with stickers and matching envelopes and you could even write your invitations in code!)
Costume ideas 
Recommend guests dress up to fit the theme
For a suave James Bond look, style black trousers, a white shirt and bow tie with slicked back hair and a briefcase
Alternatively, go for all black – trousers and a T-shirt or polo neck – with sunglasses
A utility belt full of toy gadgets completes the look
Take a photo of each child as they arrive (or ask parents to send one in advance) and put them in plastic name badge holders to give each child their own spy ID cards
"We also got the children to add their fingerprints to the cards using an ink pad."
Buy or make some fake moustaches and search charity shops for a selection of hats, coats and glasses for children to perfect their disguises when they arrive at the party
Decorations
Make children enter the party venue through a secret passageway – direct them round to a back entrance or put up a pop-up tunnel
"I hired a hall and made a camouflage tunnel that the children entered by"
Have a few spies lurking ominously in the shadows: cut life-size silhouettes out of large sheets of black paper or card and stick them to the walls for a really effective decoration. A cartoon-like spy can be easily mastered, or if you're especially artistic or overambitious, aim for a classic Bond figure.
Put signs on doors reading 'Restricted Access', 'Agents Only' or 'Top Secret File Room'
Make wanted posters from photos of the birthday child or your guests
Use crime scene tape on banisters, across doorways, and to decorate the table
Create a playlist of theme tunes from your favourite spy films
Activities and party games
All spies need a secret mission, so get creative dreaming one up

A spy-themed treasure hunt with plenty of clues will guests occupied for a while.
For cryptic clues, take photos of really obscure parts of your house – a corner of a bedroom, or a close-up of the top of the TV, perhaps – and send the kids to find them
If the party is for older children, consider a trail of code-breaking exercises. You can find plenty of examples online, or pick up a book fairly cheaply
Hide sweets or other small items around the place and get the children to scour the room for hidden 'bugs'
Get the kids to decipher a secret message revealing where their lunch is, or lead them to a 'safe' (a cardboard box covered in tin foil) containing their party bags
Test your spies' stealth with large games of sardines or hide and seek.
Laser beam maze: create a course of 'lasers' down a hallway with red wool or streamers zigzagged from wall to wall. The children have to get from one end to the other without touching a beam. "We put the tea table at the other end for an added incentive!"
Test the kids' spy instincts by blindfolding them in turn, and getting them to guess who is standing in front of them just by touch.
If it's a warm day, hand out water pistols or water bombs and send guests outside for a shootout – or get them all involved with target practice.
Train older children for secret agent missions with this simple memory game:
Draw or print out a map with plenty of landmarks and keep it hidden from the children
Split the group into two or more teams
Each team sends one person at a time to look at the map. They have ten seconds to memorise as much as they can, before returning to their team and drawing as much as they can remember
The next player adds to the drawing, and so on
Whichever team has the most information on their map, wins
You can also give well-known party games a new twist:
Pin the disguise on the spy
What's the Time, Mr Wolf, where children are on the trail of a supervillain
Chinese whispers, with secret spy messages
Pass the parcel, with a spy mission in each layer – eg. dressing up in spy gear in less than 30 seconds, or creeping around the room without being heard while everyone has their eyes shut
Party food
Her Majesty's secret sandwiches – with various fillings
Espionuggets – chicken nuggets
Dynamite sticks – carrot or pepper batons or mini sausages
Hot on the trail mix – combine a variety of snacks including nuts, dried fruit, chocolate
'Pop' secret snacks -popcorn
Truth serum – change the labels on bottles of whichever drinks you're serving
Binoculars – two mini rolls stuck together with icing
Exploding jelly and ice cream – with hidden popping candy
Fuse wires – strawberry laces
Hand out (non-alcoholic!) drinks in martini glasses – shaken, not stirred…
Cake inspiration
Cover a rectangular sponge in icing to make it look like a briefcase. Add other spy accessories made out of icing.
What to put in the party bags
Stock up on cheap gadgetry for the ultimate spy kits:
fake mobile phones
watches that are really calculators
magnifying glasses
a compass
pens with extendable pointers or lights
keyring torches
Spies should also take home their accessories for disguise – fake moustaches, glasses etc.
And of course, a slice of cake (for sustenance on long missions!).