If you're looking for some last minute stocking fillers then here are a few ideas. Or perhaps you need a couple of activities for that quieter period between Christmas and New Year before the children go back to school. These should keep everyone busy.
1 Puppets

This will keep them busy and they can use them again over the next few days. A fabulous set of colour in Nativity Finger Puppets (or there are Christmas Character ones too)
2 Christmas Lotto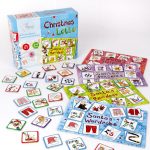 Two choices of game were Happy Families or Christmas Lotto (they were disappointed to learn that Christmas Lotto will soon be out of stock)
3 Paperchains
Despite being used as my lick-machines over the years it appears my children still enjoy making paperchains, either in the traditional way or to make decorations for the tree.
4 Chatterboxes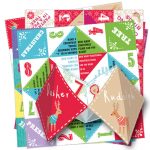 This is a new one. They have raided my Christmas stock this year and have been playing every day with these Chatterboxes. Honestly didn't expect them to still be enjoying them but really, they are out every meal time.
5 Christmas Activity Pack
Doodle your way to New Year with these sweet illustrations ready for you to add your own artistic flair to.
6 Colour in Tablecloth
Keep the whole family scribbling, doodling and colouring at mealtimes and in between. 1m by 1m is a lot of space to colour in!
7 Jigsaw
I don't know about you but I love jigsaws and having a jigsaw on the go at Christmas is a must in our house. This A-Z one is vividly illustrated so little ones will be able to join in but interesting enough that older ones will also enjoy. This jigsaw, like our others, has 150 pieces. Although it says 5-10 years, with help a younger child will be able to have a go and honestly I found it fun too as an adult.
These are just a few stocking fillers ideas, you'll find more in my shop.