Get creative over the festive period with these hand made Christmas decorations.
This article taken from The Independent
One of the really fun things about Christmas with kids is all the craft and glitter opportunities in the run up to it, not to mention the salt dough ornaments, cards to make yourself and paper chains.
So we've found the best do-it-yourself Christmas decorations for children to give your homes a cosy family feel, and to give away as presents to the people you most love (or least love, depending on your view of home-painted Christmas elves).
1. Buttonbag Mini Dove Christmas Decoration: £4, Buttonbag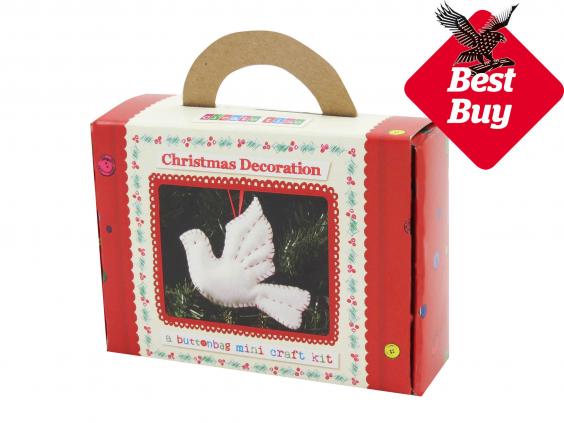 Buttonbag does a whole range of super-cute, make-it-yourself Christmas decorations that come individually in Christmassy boxes, but we particularly like this 7cm dove tree decoration. In the box are pre-cut felt shapes, a needle and thread, instructions and stuffing, so even beginner sewers can do it. Recommended for ages seven and up.
2. Rosie Flo's Colouring Christmas Decorations: £6.95, Not On The High Street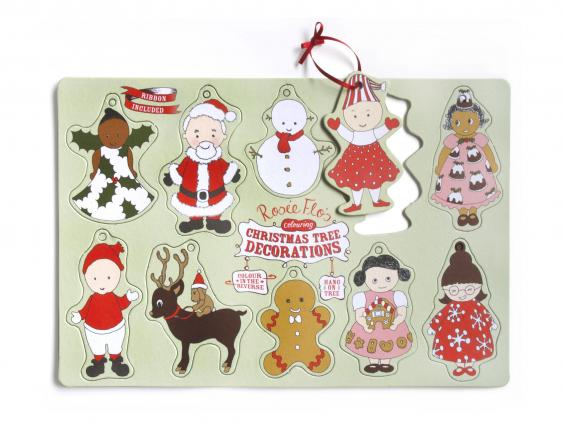 We love these beautifully drawn Christmas hanging decorations. One side is already coloured but the other is left as a line drawing for you to colour in yourself, either copying the front or with your own colour scheme. Ideal for all ages.
3. Paint Your Own Elf on the Shelf: £2, Hobbycraft
The idea of the Elf on the Shelf is that the ornament watches the kids for the whole of December to make sure they're being good, with parents occasionally moving it around to keep them on their toes. Kids will love painting it in whichever colour scheme they choose, and it's a bargain at just £2. We're not convinced it's not slightly creepy, but each to their own. It's 14cm high and paints and brush are included.
4. Geo Make Your Own Fringed Tree Kit: £5.60, TalkingTables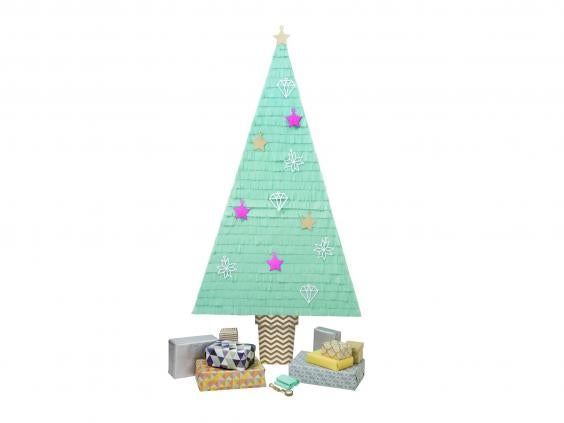 That promise you made to have a big tree that you are now regretting – now you can fulfill it. This make-it-yourself paper tree can be hung on the wall and is nearly six foot tall. Create a tree shape with pre-cut guides, adding the "needles" with the fringed green paper and the bling with the glittery decorations.
5. Paper Chain Kit Christmas Carnival: £2.95, DotComGiftShop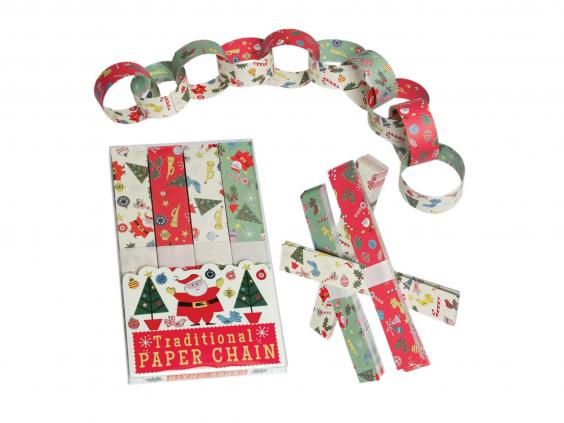 The simple ones are often the best – and while paper chains are often seen as tinsel's poor relation, they are the perfect activity to do with young children. This set of 200 papers with Christmassy designs stick together with double sided tape (provided) to make 10 metres of paper chain.
6. Melissa & Doug Mess Free Glitter – Christmas Tree & Gingerbread House: £4.99, Early Learning Centre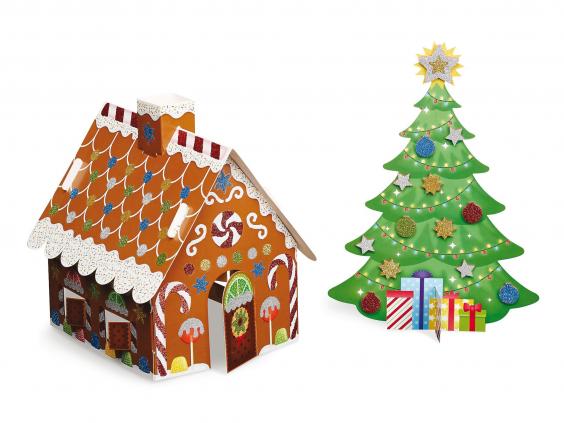 Glitter without the mess! Peel back the paper from the stickers that make up this model Christmas tree and gingerbread house and stick on the glittery sheets. You get all the sparkle, without any of the picking shiny specks out your carpets and hair for months to come.
7. Phoenix Trading Make Your Own Gift Tags: £3.50, Phoenix Trading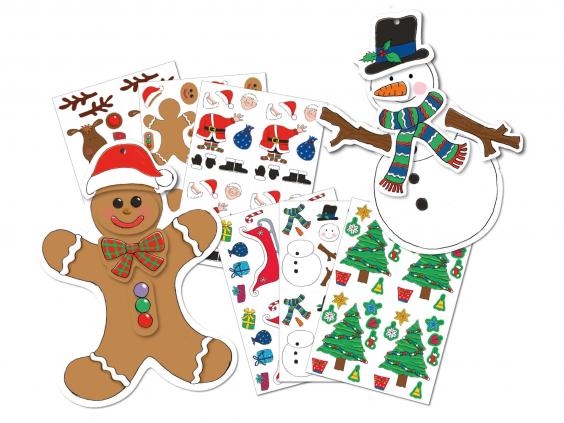 Glue the pieces of each tag together to make 3D gift tags in six different designs (or more if you don't follow the brief and choose to give Santa reindeers and the gingerbread man a scarf). The pack contains the pieces for 24 tags, including ribbon, giving your gifts a personalised look under the tree.
8. Hama Christmas Gift Set: £7.99, Hama Beads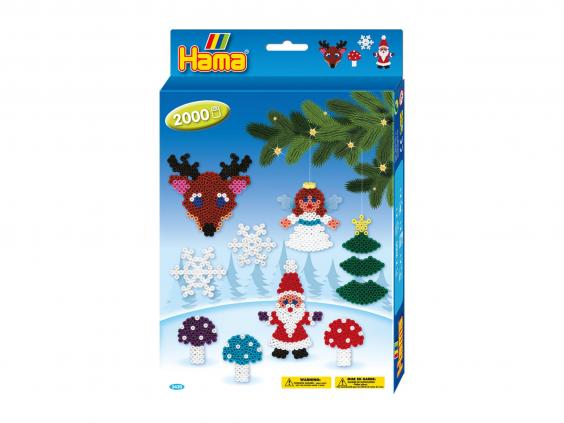 Recommended for children aged five and above, hama beads are tiny plastic beads you put on a peg board (provided) in different designs and then iron together to create ornaments. This set comes with instructions for several different Christmassy designs, and about 2000 beads (be extra careful not to spill them).
9. Origami Christmas Decorations: £4.95, RNLI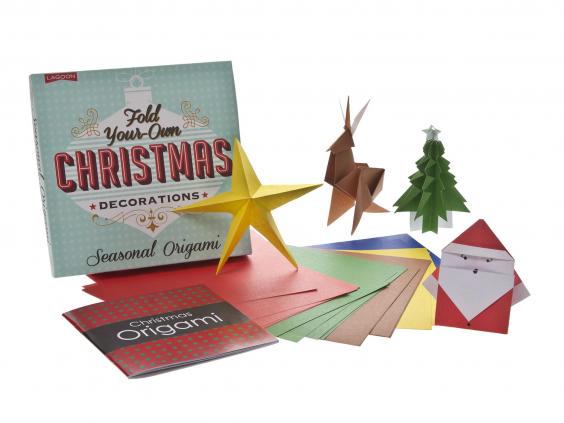 Save it for Christmas Day and you'll be able to keep guests of all ages busy making angels and reindeer out of paper while you baste the turkey. The instructions are clear enough, but we very much suspect everyone will be searching for YouTube tutorial help before you see a single finished decoration. They look great though and teens will love them.
The Verdict: DIY Christmas decorations
We're tempted to suggest you get one of everything and turn your home into the kind of homemade grotto that one imagines Kirstie Allsopp lives in, but if we had to choose it would be the Buttonbag mini dove decoration. That said, the Rosie Flo hanging decorations are very high on our own Christmas list and for a child who is not easily scared, the paint-your-own Elf on the Shelf would be a great choice.
This article taken from http://www.independent.co.uk/extras/indybest/christmasgifts/decorations/best-diy-christmas-decorations-ornaments-ideas-easy-for-your-room-a7439196.html